World Snow Overview
We've created this page to help you find the best snow conditions. It combines past, present and future data sources from around Snow-Forecast.com and updates regularly. The Snow Roundup page is updated on Mondays and Thursdays for all major ski resorts. Live Eyeball snow updates are shown in real time when submitted via twitter by our global network of reporters. Resort Picks lists ski resorts from around the world where new snow is forecast, powder is reported and latest snow depths.
SNOW NEWS UPDATED 13 MARCH 2019

INTRODUCTION Most of the Alps have seen their heaviest snow for two months over the past 72 hours, with some Swiss ski areas reporting up to 90cm (three feet) of fresh snow to start the week.
AUSTRIA It has been snowing across most of Austria and in fact, the accumulations of the past week, and particularly the past 782 hours, are the biggest since the West of the country ground to a standstill in the huge snowfalls during the first three weeks of January. Lone of the resorts that really got dumped on then, Saalbach Hinterglemm (90/210cm) is seeing huge snowfalls again, reporting more than 60cm (two feet) of new snow since the weekend. For most other Austrian resorts the numbers are 20-50cm of fresh snow so far. Up on the glaciers, base depths have crept back up to 5 metres for the first time since January although the Dachstein, the area posting that number, was closed on Tuesday due to fog and heavy snow. Temperatures there were -15C.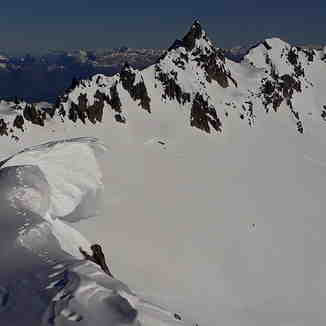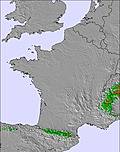 FRANCE There have been snowfalls across the French Alps over the past week too with some of the heaviest snowfalls since the weekend. Typically resorts have reported 10-30cm so far and bases are getting progressively deeper for the first time in several months. Les Arcs (147/295cm), which has had 25cm of fresh snow since Sunday, is currently posting the deepest base in the country but it is a fast changing picture with more snow falling and lots of resorts posting totals close to those in Paradiski. Chamonix (5/205cm) is actually posting the biggest snowfall in the country in the past 72 hours with 35cm (14 inches) but skiers in resort say this has been falling as rain at times in town.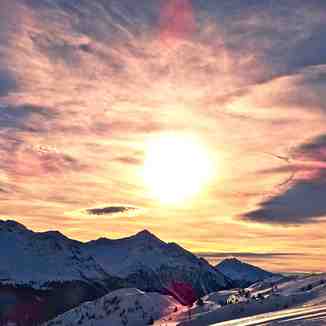 SWITZERLAND Swiss ski areas have reported the biggest snowfalls of the past week with one resort Anzere 60/220cm) reporting 90cm (three feet) of snowfall in the past 72 hours and a total of 98cm - just under a metre in the last week - by some distance the biggest fall in the country for almost two months. The biggest accumulations have been in the Valais region. Besides Anzere, Leukerbad (35/220cm) reported 55cm of fresh snow in the same period. But resorts across the country, including in Central Switzerland and Graububnden to the east, have had heavy snowfall too. Andermatt (34/600cm) has lost its 'deepest base in the world' title but is still deepest in Europe, although Engelberg (54/586cm) is edging closer.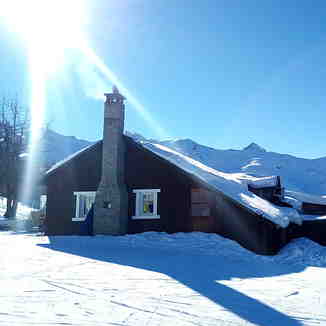 ITALY Italy has seen its biggest snowfalls of the past few days along its western border with France, particularly in the Piemonte and Aosta Valley areas where up to 35cm of fresh snowfall has been reported. San Domenico di Varzo (40/400cm) in Piemonte reported 25cm in the past 24 hours and has the joint deepest base in the country. There was some snow for the Dolomites at the end of last week too. Passo Tonale (60/400cm) on the Lombardy/Trentino border region equals the country's deepest base and is expected to remain open to late spring as usual.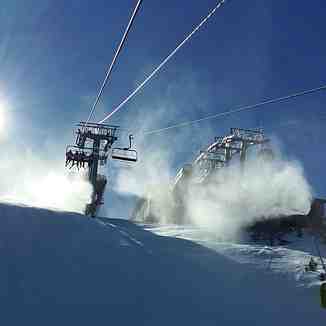 ANDORRA There have been several periods of light to moderate snowfall in Andorra over the past seven days, bringing to an end a period of predominantly warm, dry weather, which saw bases slowly decrease, although not to any serious degree that threatened slope opening. The new snow in the middle of last week and the start of this has refreshed cover and there's more on the way this week. Base depths remain good across the principality with Arcalis (160/220cm) posting the deepest.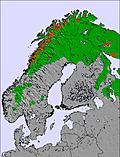 NORWAY/SWEDEN It has been one of the snowiest weeks of the season so far in Scandinavia with heavy snow reported across much of Norway and Sweden, so there has been plenty of powder to enjoy, especially at more northerly resorts like KÃ¥bdalis (120/120cm) in the Jokkmokk area of Northern Sweden which reported 20cm of fresh snow at the weekend. Over on Norway's coast, Voss (50/100cm) was another snowfall winner with 42cm of fresh snow in 72 hours.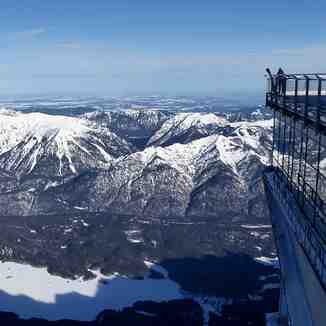 GERMANY Some good snowfalls in the southern Oberbayern region of Germany as well as in Bayrischer Wald, with the resort's highest ski area, the Zugspitze (0/400cm) once again posting the biggest snowfall totals with 60cm (2 feet) ion the past few days. 50cm of that fell in the past 24 hours alone. There were good snowfalls across much of the country's ski regions though with Oberstdorf (40/190cm) in the Allgau region reporting 20cm of fresh in 24 hours, for example. It has all lifts running and all of its slopes fully open.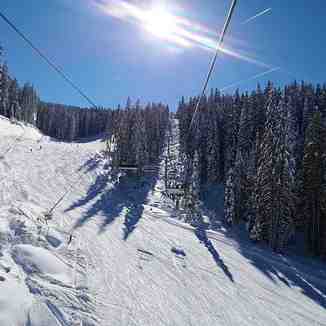 BULGARIA Temperatures have dropped in Bulgaria to mostly sub-zero from resort to the mountain top and some ski areas including Pamporovo (220/260cm) are seeing fresh snow after several weeks of thawing with warm temperatures (Pamporovo's upper slope base depth was 290cm a month ago). Snow depths look good for the resort of the season with the area's largest resort Bansko (100/160cm) still with a metre lying on lower slopes and almost all runs open.

SCOTLAND Another week of improving conditions in Scotland as the cold spell that began with the start of spring continues and the snow keeps falling on the hills at least. The biggest improvements - after almost all the snow on the hills was wiped out by the February-thaw - has come in the west with Glencoe (5/45cm) And Nevis Range (5/45cm) both able to open terrain on their upper mountain slopes at the weekend. The other three areas say they need more snow before they can re-open runs but it is still coming down.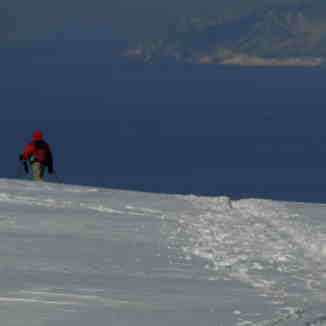 JAPAN It has been a third successive week with little fresh snowfall to report in much of Japan, particularly on the famed 'powder island' of Hokkaido to the north. Niseko (120/320cm) has finally seen its season snowfall stat tick over from the 899cm it has been for most of March to 900cm but with not much snowfall on the horizon still, it's not looking good for hitting the annual average, although that said there's still nearly two months of the season left. Further south in Nozawa (80/300cm) there was a 20cm snowfall last Friday but rain more recently.

USA Last week was another very snowy one in the US with Colorado making the headlines for big accumulations there (most resorts got at least a metre of snow in just a few days, some as much as 1.5 metres (five feet) of snow. This caused plenty of logistical issues but also racked up the avalanche danger to 'extreme'. Arapahoe Basin (239/239cm) was one of those resorts the closed completely because of it and nearby Copper Mountain (218/305cm) was temporarily closed when an avalanche took out a nearby gas pipeline, causing a leak, several avalanches hit roads too trapping drivers in their cars. In California, and most of the rest of the West of the US, it kept snowing too, with ski areas on the Pacific coast overtaking Switzerland to post the world's deepest bases at over six metres (20 feet). There was snow again in the East too, but it has also been windy and at times warm, although bases are still holding up.

CANADA It's Eastern Canada that has again been seeing the biggest snowfalls in Canada over the past week with Tremblant (537/537cm) in Quebec one of several reporting more than 40vcm of fresh snow in the past few days. It has moved further ahead of its west coast competitors on the deepest-snow-in-the-nation table. That's not to say the West has stared dry and Whistler Blackcomb (268/268cm), where there's still two months of the season left to run, reported 29cm in the same period.

EUROPEAN WEATHER OUTLOOK There is no immediate end in sight to the predominantly snowy weather in the Alps with most of the region expected to see more snow through the rest of this week, intensifying by Friday. Many areas may indeed see 30-60cm of snow on Thursday and Friday before a weekend lull in the weather, then the snowfall resuming on Monday.7 day totals could be as much as a metre in some regions including Austria's Arlberg and Otztal areas and at Andermatt in Switzerland, Italy's Ortler Ski Arena and the Chamonix Valley in France. Many other ski regions could come close to these numbers and most should see 30-60cm more snow at least. There's less snow expected in the Dolomites where the weather conditions are a little more marginal in terms of the likelihood of snowfall, but it's possible some areas will see some small to moderate accumulations. In the Pyrenees, a few more light snow showers are expected later this week and at the start of next, but we're most likely talking 5-10cm in total, at best, so nothing to get too excited about, but equally, better than nothing. For Scotland, it's a snowy but still stormy picture too which basically means bases should keep building and hopefully the snow fences will stop the fresh snow from blowing off. It will be a case of keeping an eye out for non-stormy days when it will be first-come-first-served with the fresh powder.

NORTH AMERICAN WEATHER OUTLOOK After the massive snowfalls of recent weeks and months many Americans will be relieved at a fairly benign picture for the week ahead when they can just enjoy the world's deepest snowbases without fear of a blizzard hitting them. So most of the country is looking dry with just the odd inch of snow expect5ed here and there. A few places may bet another footy over the coming week but not many - Arizona, Colorado, New Mexico then up in Alaska are looking the snowiest spots, potentially. Over the Canadian border it's not looking a particularly snowy week ahead and what snow we do get will predominantly be in the west, with 20-30cm of snow likely in BC and Western Alberta. Quebec looks like it will get a few centimetres more snow and for temperatures to stay below zero on the slopes but possibly get as high as +5C at times down in the valleys.