Esqui Switzerland
Swiss ski areas closing dates 2022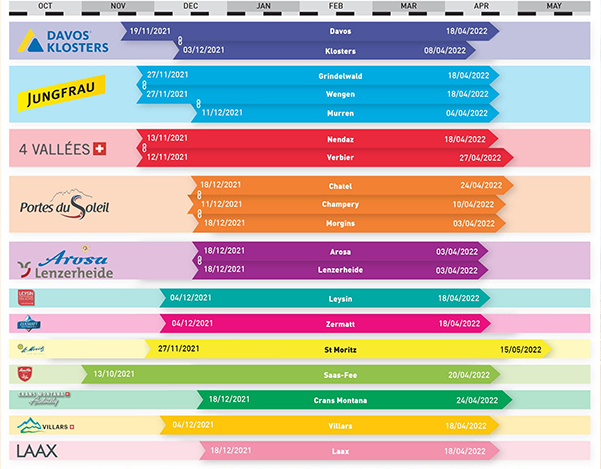 Switzerland: as mais recentes condições de neve
Summary of forecast snowfall and ski conditions for resorts in Switzerland. Fresh snow is forecast at 5 resorts. Powder is reported at 0 resorts and 14 are reporting good piste conditions.
Relatórios recentes de neve da testemunha ocular para Switzerland
Observação do radar meteorológico:

It is snowing heavily at altitude in Saas Fee.
Ski resorts in Switzerland from N to R
Estações de esqui

profundidade de neve
topo e base

na pista

Fora de Pista

última neve

próximos 9 dias
0–3 | 3–6 | 6–9
neve (

cm

)
Próximos 5 previsão do tempo
Nível de congelação (

m

)
Sat
Sun
Mon
Tue
Wed

Nara

(1016 m — 2465 m)

snow report há 4 dias

Meio da estância

1740

m

3350

 

m

3850

 

m

3500

 

m

3650

 

m

3700

 

m

Nax - Mont-Noble

(1144 m — 2700 m)

Meio da estância

1922

m

3850

 

m

3700

 

m

3550

 

m

3800

 

m

3750

 

m

Nendaz

(1365 m — 3331 m)

snow report hoje

Meio da estância

2348

m

3850

 

m

3700

 

m

3550

 

m

3800

 

m

3700

 

m

Niederrickenbach

(1233 m — 2001 m)

Meio da estância

1617

m

3600

 

m

3800

 

m

3550

 

m

3700

 

m

3700

 

m

Oberiberg

(1026 m — 1856 m)

Meio da estância

1441

m

3500

 

m

3800

 

m

3550

 

m

3700

 

m

3750

 

m

Obersaxen - Mundaun - Val Lumnezia

(1200 m — 2300 m)

snow report hoje

Meio da estância

1750

m

3350

 

m

3850

 

m

3500

 

m

3700

 

m

3800

 

m

Obertoggenburg - Toggenburg

(1045 m — 2627 m)

Meio da estância

1836

m

3350

 

m

3850

 

m

3450

 

m

3700

 

m

3800

 

m

Ovronnaz

(1568 m — 2903 m)

snow report hoje

Meio da estância

2236

m

3900

 

m

3750

 

m

3550

 

m

3800

 

m

3650

 

m

Pilatus / Luzern

(813 m — 1644 m)

snow report hoje

Meio da estância

1228

m

3650

 

m

3800

 

m

3550

 

m

3700

 

m

3700

 

m

Pizol

(727 m — 2226 m)

snow report hoje

Meio da estância

1476

m

3350

 

m

3900

 

m

3400

 

m

3700

 

m

3900

 

m

Pontresina

(1732 m — 3005 m)

Meio da estância

2368

m

3300

 

m

3900

 

m

3400

 

m

3750

 

m

3900

 

m

Pontresina/Engadin

(1558 m — 3303 m)

snow report hoje

Meio da estância

2430

m

3300

 

m

3900

 

m

3400

 

m

3750

 

m

3900

 

m

Rathvel s/Châtel-St-Denis

(1469 m — 1737 m)

Meio da estância

1603

m

3950

 

m

3750

 

m

3500

 

m

3750

 

m

3550

 

m

Reichenbach - Faltschen

(820 m — 1510 m)

Meio da estância

1165

m

3800

 

m

3800

 

m

3550

 

m

3750

 

m

3700

 

m

Ricken

(929 m — 1045 m)

Meio da estância

987

m

3350

 

m

3800

 

m

3500

 

m

3700

 

m

3800

 

m

Riederalp - Aletsch

(2264 m — 2711 m)

snow report hoje

Meio da estância

2488

m

3700

 

m

3750

 

m

3550

 

m

3750

 

m

3750

 

m

Riffenmatt

(1219 m — 1277 m)

Meio da estância

1248

m

3900

 

m

3850

 

m

3450

 

m

3750

 

m

3450

 

m

Rigi

(1672 m — 2090 m)

opens in 113 days

2

cm




há 75 dias

Meio da estância

1881

m

3600

 

m

3800

 

m

3550

 

m

3700

 

m

3700

 

m

Rinerhorn Davos Klosters

(1454 m — 2490 m)

Meio da estância

1972

m

3300

 

m

3950

 

m

3450

 

m

3700

 

m

3900

 

m

Rochers-de-Naye - Caux

(1161 m — 2322 m)

snow report hoje

Meio da estância

1742

m

3950

 

m

3750

 

m

3550

 

m

3750

 

m

3550

 

m

Rossberg Oberwil

(1045 m — 1800 m)

Meio da estância

1422

m

3550

 

m

3800

 

m

3550

 

m

3700

 

m

3700

 

m

Rosswald - Brig

(1000 m — 2599 m)

Meio da estância

1800

m

3750

 

m

3750

 

m

3550

 

m

3750

 

m

3750

 

m

Rothenthurm

(1068 m — 1544 m)

Meio da estância

1306

m

3500

 

m

3800

 

m

3500

 

m

3700

 

m

3750

 

m

Rüschegg / Eywald

(1219 m — 1800 m)

Meio da estância

1510

m

3850

 

m

3850

 

m

3450

 

m

3750

 

m

3450

 

m