World Snow Overview
We've created this page to help you find the best snow conditions. It combines past, present and future data sources from around Snow-Forecast.com and updates regularly. The Snow Roundup page is updated on Mondays and Thursdays for all major ski resorts. Live Eyeball snow updates are shown in real time when submitted via twitter by our global network of reporters. Resort Picks lists ski resorts from around the world where new snow is forecast, powder is reported and latest snow depths.

SNOW ALERT

INTRODUCTION Much of Europe has seen large quantities of snow, falling heavily across areas of France, Switzerland, Austria and Italy. This has provided a welcome addition to the French Alps who had seen less of the snow that came in November. For the Eastern Alps, this weekend continued to build what looks to be the best early season conditions in several years. The coming week looks to bring lighter snowfall, though little chance of clouds clearing completely, before heavy snow begins once again on Friday.
AUSTRIA Over the weekend there has been considerable snow fall in most of our featured resorts. Most notably Zell am See (5cm/112cm) had 70cm, which should improve the slopes vastly. Other notable snowfall could be seen in in Lech/Zurs (80cm/110cm) which has 30 cm of fresh snow, and the Kitzsteinhorn in Kaprun (40cm/270cm), which had over 40cm. Due to stormy conditions, a number of our resorts have reduced lifts in operation or closed completely. Kaunertal (154cm/260cm), which has been one of the best resorts for snow conditions so far this season, was closed for the day due to extreme weather conditions. Similarly, Stubai (40cm/210cm), Bad Kleinkirchheim (40cm/90cm) and SIlvretta Montafon (25cm/110cm) have all had to close their lifts due to extreme weather conditions. More snow is on the way, with a number of resorts forecasting large snowfalls for Tuesday 12th December. Brandnertal (25cm/90cm) is forecast for as much as 43cm of fresh snow, whilst Gargallen (50cm/100cm) is forecast to have over 30cm of snowfall.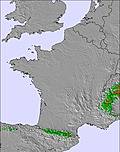 FRANCE Heavy snow has fallen across much of the French Alps, beginning on the 8th December and continued to fall on Monday 11th December. This has led to poor visibility over much of the French Alps, though luckily this has not been accompanied by the low temperatures that we have been seen in the previous week. Some of the heaviest snow in the northern French Alps is around Chamonix (40/120cm), having recorded 40cm of fresh snow just in the morning of the 11th. These resorts have now begun lift operations, with 17 lifts providing access to plenty of fresh powder. Similarly, resorts within the Paradiski ski area have seen their snow depths substantially increased, with two metres now being recorded on the glacier. Unfortunately the area remains closed until the coming weekend. Further south, the three valleys ski area is now fully operational, with Courchevel (80/118cm) and Meribal (50/120cm) operating twelve and seven lifts respectively. Some very large snowfalls have been reported in the region, up to 1m at the peaks around Val Thorens (115/140cm). Unfortunately, the substantial amount of snow that has fallen resulted in a large number of lift and piste closures due both to visibility issues and ski patrol carrying out avalanche mitigation activities. Conditions are similar in Espace Killy, where Tignes (108/165) is reporting 70cm of snow on Sunday, offering more opportunities to ski fresh powder. These conditions look to continue for much of the coming week. Light snow is expected for much of the week, before becoming much heavier next Friday.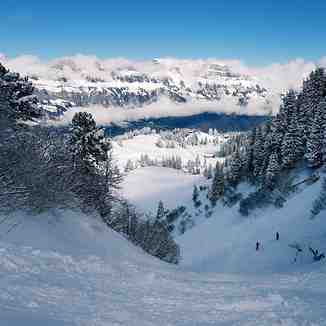 SWITZERLAND Although temperatures have risen slightly, the new week started with yet more snow across our featured Swiss resorts. Adelboden (16/100cm) received a dump of around 35cm in the last 24 hours, but the lower slopes have become somewhat wet and heavy due to some rain, which continued into Monday 11th December. The same could also be said for Davos/Klosters (26/94cm), where the temperature was sitting at around +5CHigh winds also forced the closure of many resorts on Monday, which those falling victim including: Engelberg (30/305cm), and the Jungfrau resorts of Wengen (20/80cm) and Grindelwald (50/78cm). At Flims Laax (30/150cm) 30cm of fresh snow has fallen, but the upper slopes remain closed, with only 6/29 lifts running and a total of 17/224km of pistes open to ski. In the 4 Vallees, Nendaz (70/120cm) was looking very good after 70cm of new snow. The upper slopes around Mont Fort are not yet open to explore the off piste, but the snow should be pretty good up there once lifts start running. The forecast for the coming week is for yet more snow, and a new storm cycle from Tuesday 12th December. Accumulations could reach as high as 40cm in Gstaad (50/270cm) on Friday 15th December, and in short it looks like our featured Swiss resorts are very nicely poised for an excellent Christmas.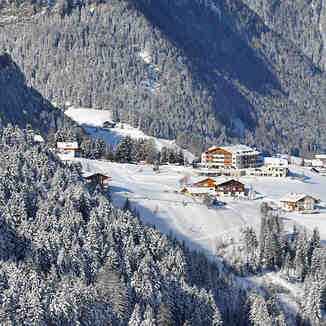 ITALY The weekend was a very wintry one for the vast majority of Italian ski resorts. The Milky Way ski area opened over the weekend, with fresh snow falling to great the newly arrived skiers. Sauze d Oulx (15/40cm) and Sestriere (15/40cm) remain open during this week although Cesana and Claviere are closed until next weekend. La Thuille (100/190m) reported a metre of fresh snow on Sunday 10th December, closely followed in second place ranking in Italy by Pila (70/100cm) where 70cm of new snow was reported. Cervinia (50/110cm), which neighbours the Swiss resort of Zermatt, reported half a metre of new snow on Sunday. With further fresh snowfall predicted across Italy this week, things are looking really good ahead of the impending and busy festive break.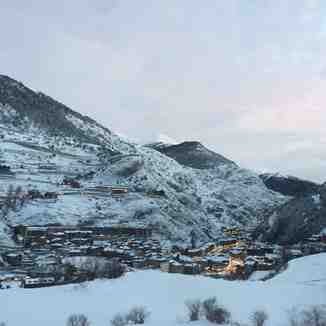 ANDORRA It was lightly snowing across our featured resorts in Andorra on Monday 11th December. Low cloud has led to reduced visibility, though lift operations do not appear to be impacted, with the Grandvalira ski area operating 28 lifts, serving a good amount of groomed pistes. Weather for the coming week looks changeable, with sunnier skies on Tuesday 12 December, accompanied by dropping temperatures, before fluctuating round to the possibility of rain by Thursday 14th December.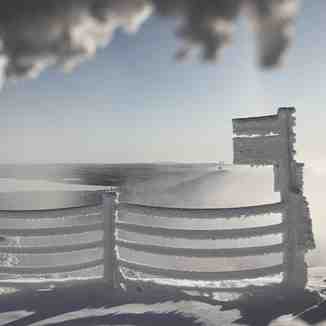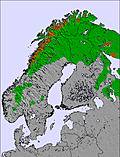 SCANDINAVIA There were overcast skies across Finland on Monday 11th December. Snow is predicted, but has not yet fallen. Temperatures were around the -5C mark, with the likelihood that any snow incoming would begin falling into the evening, with forecasts showing it getting momentum on Tuesday 12th December. Coverage across all resorts looks sufficient for a good range of night skiing under floodlights, even if much of the snow in places is artificial. In Sweden, Salen (43cm) has received a welcome 7cm of snow. This has refreshed the pistes nicely, allowing for skiing across 39 operational lifts under overcast skies. Are (53cm) received a light dusting on the 10th December, though a reduced lift offering limits the opportunities to take advantage of the new fall. On the plus side however, the skies are somewhat brighter with welcome sunlight shining through. Temperatures in Norway have been low, accompanied by predominantly cloudy skies and the occasional rays of sun coming through. Some of the forecast snow did materialise over the weekend, mostly notably in Oppdal (50/70cm), with 15cm falling on the 9th December, while Voss (45/130cm) received 10cm on the 10th December.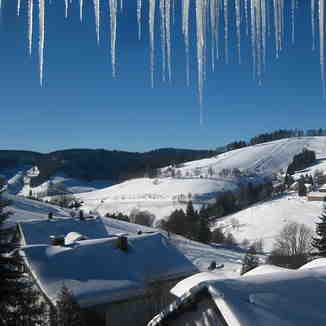 GERMANY Conditions in Germany have been generally mild, with overcast skies and temperatures staying above freezing. There has been less snow than some other parts of the Alps, though the 10cm that fell on the 8th December has refreshed the pistes somewhat. Good skiing is available in Lenggries (30/80cm), where 14 out of 16 lifts are operating with good snow cover across the resort. Berchtesgaden (20/50cm) remains limited to weekend skiing until the 15th December. Skiing around Garmisch Partenkirchen (0/175cm) is temporarily suspended due to stormy conditions, with wind also impacting operations in Oberstdorf (10/120cm) at high altitude.

EASTERN EUROPE Jasna (30cm/60cm) has had 20cm of fresh snow over the weekend, which should help the pistes to improve. However, due to extreme weather conditions, the resort has had to close. Kranjska Gora (50/60cm) is forecast to have over 16cm of snow over the next few days. The best skiing in Eastern Europe is at Spindlerluv Mlyn (30cm/60cm), which throughout the whole of last week has had fresh snowfall. None of our featured Bulgarian resorts are yet to open for the season.

SCOTLAND Snow across the UK over the weekend has been a great help to the Scottish ski centres. Cairngorm (20/35cm), Glencoe (30/45cm) and The Lecht (10/25cm) were all open on Monday 11th December, benefiting from around 10cm of fresh in the last 24 hours. As you would expect, conditions are improving and more terrain is beginning to open, but some thin areas and natural hazards are still about, so do ride with care. More snow is forecast for the coming week, and temperatures are expected to stay low. So far the signs for a good Scottish ski season are certainly in place.

USA Much of the central Rockies are disappointingly still without a cloud in sight. This is hindering the rate at which many resorts in Colorado and Utah have been able to expand their lift and piste offerings, with many still only running a fraction of their potential facilities. Continued sun in the forecast does not bode well for the hopes of any imminent change in circumstances. In better news, heavy storm conditions in New England has delivered fresh snow to Vermont and Maine, with more on the horizon for much of the rest of the week, coming most heavily on Tuesday. This has come most heavily in Stowe (30/91cm), with 18cm coming down on the 10th December. This has been accompanied by a drop in temperatures, going as low as -15C on Wednesday. Mount Snow (38/46cm) also recorded an impressive 15cm of snowfall. Attitash Bear Peak (18cm), are forecasting over 25cm of snow on Tuesday, which will help get the pistes ready for their winter opening this weekend. In New Mexico, Taos (46cm) has moved to seven day a week operations. Up in Alaska, Alyeska (114cm) had a great opening weekend which coincided with 10cm of fresh snow on Saturday.

CANADA Sunny skies have now been the norm in Canada for the past week, and look to continue a while longer yet. This is accompanied by rather unseasonably high temperatures, often above freezing. Though this extended period without substantial snow has seen base depths creeping down in many resorts, the large snowfall that preceded it means this has not had a serious impact on piste depths. These high temperatures, coupled with temperature inversions has led to some concern about the quality of the snowpack however, so bear this in mind when exploring off piste. In Alberta, little has changed in terms of operations or conditions, though Mount Norquay (83cm) is now operating all but one lift. Over in British Columbia, Kimberley (40cm) has now begun operations, with two lifts serving 12 groomed runs, while Panorama (35/81cm) has also moved to full time openings. As has become the norm over the last week, the resorts in Quebec are the outliers to this current weather system, with far lower temperatures. 5cm of snow has fallen in Mont Sainte Anne (36/40cm), with more on the horizon for the rest of the week. Tremblant (60cm) has seen consecutive snow over the past three days.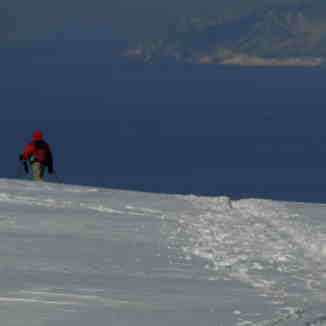 JAPAN Conditions in Japan continue to offer exceptional riding conditions. Though Hakuba (105/155cm) has not reported substantial fresh snow over the weekend, existing conditions continue to provide ample opportunities for good skiing. Niseko (85/210cm) on the other hand continued their trend of fresh snow with 10cm falling on the 10th December. Over in Rusutsu (98/118cm), heavy snow is expected overnight, refreshing the slopes.avy snow is expected overnight, refreshing the slopes.